Until we find a resonably priced supplier of fasteners, we are closing out our remaining inventory below cost. The quantity available is indicated in the table below. Please do not order more than what is available, as we will not be able to fill your order.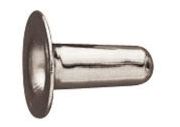 All the bottoms of these rivets look like this.
For all your general riveting needs. For a finished look on both sides of your project, use double cap rivets (also on close out) instead.
What size rivet do I need? The length of your rivet should be 1/16" to 1/8" longer than the thickness of the items you are riveting.
Nickel plated steel.