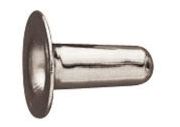 All the bottoms of these rivets look like this.

For all your general riveting needs. For a finished look on both sides of your project, use double cap rivets (also on close out) instead.

What size rivet do I need? The length of your rivet should be 1/16" to 1/8" longer than the thickness of the items you are riveting.

Nickel plated steel.